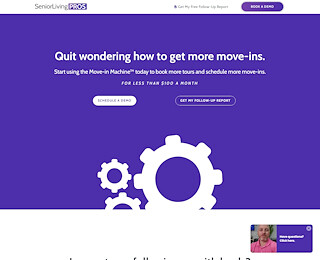 About 10,000 people turn 65 every day in North America, and it is projected that this will continue for the next 20 years. It is impossible to argue that society is ageing, especially since improvements in technology and the healthcare sector have caused an increase in our life expectancy.
Therefore, it is not surprising that the home care industry is booming, and this is why nursing home marketing is important if you want to stay ahead of your competitors.
Every ambitious business owner wants to expand his business and make more profit; however, it takes a lot of effort to run a nursing home business. The business owner needs to consider and manage recruitment, sales, marketing, scheduling, and lots more. It is not surprising that many nursing home owners prefer to hire professional agencies to handle their nursing home marketing needs.
The concern is that their current home care facility's marketing strategies seem to be less successful, and navigating the modern digital marketing environment can be daunting, leaving them feeling confused. Even with an increasing number of rivals, it shouldn't be difficult for highly ranked senior living communities to stay full at all times.
As a nursing home owner, your major responsibility is to make life comfortable for older generations by providing them with exceptional healthcare services. As they move into their last decades, seniors need more for orthopedic illnesses and chronic diseases such as dementia, Parkinson's, Alzheimer's, and multiple sclerosis. If your services are good enough, their children and loved ones' minds can be at peace too.
Asides from this, you have to attract more quality residents, improve your case mix, build an online reputation, brand and promote your facility, and increase referrals.
Why You Need Advanced Marketing Strategies for Your Nursing Home
The key goals of nursing home marketing are to raise brand awareness for nursing homes and, eventually, to generate more conversions and attract more clients.
Nowadays, having a website for your nursing home is not enough. Maintaining an online presence requires you to promote your facility to senior communities online actively. If done correctly, you can push your business to so many people who didn't even have prior knowledge about your company.
Professional referrals are other ways of marketing for senior care centers. Every nursing home care business needs to grow its professional network. One way to achieve this is to visit hospitals and clinics to sell your business. Of course, you have to be smart about this and ensure you make a good impression. You can have a friendly chat with nurses at the hospital and ask permission to leave some flyers or brochures in the waiting room brochure stand.
You could also request to meet with the hospital's discharge planner to advertise your company. Ensure you bring your professional assisted living advertising A-game because you'll need to convince them how your company stands out among other home care businesses and how you can help senior citizens speed up their recovery.
If you invest enough time, resources and money in your nursing home marketing efforts, you should start seeing the reward in no time. Book a call with Senior Living Pros: http://seniorlivingpros.com/book-a-call/